LIKE DEMONS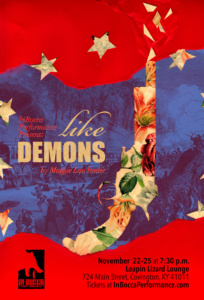 Set during the backdrop of the American Civil War, Like Demons is a tale of historical fiction based on the forgotten true stories of real women who lived and fought as male soldiers on the battlefield. Their silent heroism, true patriotism, and love of honor come to life in the story of one woman's journey as a soldier and spy for the duration of America's bloodiest war.
Written by the incomparable Maggie Lou Rader and directed by the one-woman force Alice Flanders and the lovely Alexx Rouse, we cannot wait to show you this fantastic, gorgeous production!
BUY TICKETS
Cast:
Hannah Gregory
Liz Carman
Derek Snow
Chaslee Schweitzer
Esther Cunningham
Kate Stark
Ashley Olivia Danger Morton
Rory Sheridan
Dates:
Nov. 22nd at 7:30pm
Nov. 23rd at 7:30pm
Nov. 24th at 7:30pm
Nov. 25th at 7:30pm
Tickets: $15
Location:
Leapin Lizard Lounge
724 Main Strausse
Covington, KY 41011
PLEASE NOTE: Audience must ascend a staircase in order to access the space. There is no elevator access. We apologize for any inconvenience.
PARKING: Parking in MainStrausse is street parking. We suggest using Uber or Lyft or carpooling if you are joining us on Friday or Saturday, as it can get very busy–but otherwise, park anywhere where it's legal! Most street parking is free or metered.
---
Subscribe to our mailing list to stay up to date on future productions!