now playing
Subscribe to our mailing list to stay up to date on future productions! 
Current Production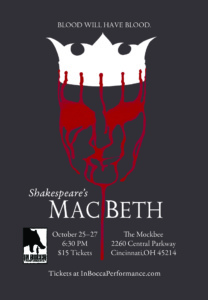 InBocca Performances presents William Shakespeare's MACBETH, just in time for Hallowe'en!
A Scottish general named Macbeth receives a prophecy from a trio of witches that one day he will become King of Scotland. Consumed by ambition and spurred to action by his wife, Macbeth plots to murder the King of Scotland and take the throne for himself.
One of Shakespeare's fastest and most exciting plays, set against a backdrop of ancient Scottish warriors and directed by Tony Newton. We are thrilled to present this show in one of our favorite venues, The Mockbee, a perfect venue to help you get into the Hallowe'en spirit. Starring a cast of Cincy Theatre favorites, this will be a production you don't want to miss!
Shows are:
October 25th at 6:30pm
October 26th at 6:30pm
October 27th at 6:30pm
Tickets are $15 and can be purchased here.
PARKING AT THE MOCKBEE:
Parking at the Mockbee can seem tricky, but it's actually really easy!
After 6pm, there is free parking on Central Parkway as you come up to the Mockbee, but please make sure you follow listed parking rules on the signs so you don't get a ticket!
You can also turn onto Brighton at the light right past the Mockbee, as there is free parking to your left on Central Ave (DIFFERENT from Central Parkway)!
If you're coming from McMicken, there is parking available up there and you can walk down the stairs next to the Mockbee to get in (if you squint, you can see the word "Stairs" to the left of the address marker on this map!).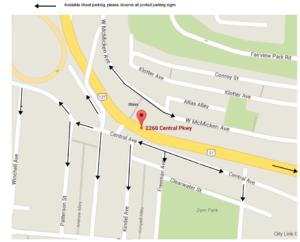 Up Next:
…Join our mailing list to learn about upcoming auditions in the spring for our next production!
Please feel free to email with any questions at info@inboccaperformance.com.
Stay tuned or join our mailing list for even more information about our Season!