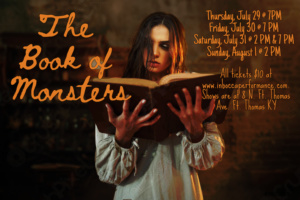 Join InBocca Performance for their return to Village Players and indoor theatre as we explore the Book of Monsters! A tale where we explore some of the frightening monsters of fairy tales and mythology and how we, as humans, might just identify with those creatures more than we think.
Tickets are $10 per person. Show times are listed below.
PLEASE NOTE: due to the nature of the performance space, we are asking that all unvaccinated persons wear a mask during the performance. Village Players is an old and small space with a non-updated HEPA system. Due to the intimate nature of the space and our desire to allow the vaccinated performers to be unmasked, we want to make sure that all can watch the show safely. This is not a political statement of any kind, but merely a precaution. Thank you for your understanding. Please email info@inboccaperformance.com with any questions.
SHOWTIMES:
July 29th: 7pm
July 30th: 7pm
July 31st: 2pm and 7pm
Aug. 1st: 2pm
Tickets available here.
BUY TICKETS
---
Subscribe to our mailing list to stay up to date on future productions!